Our patented laser cleaning head can remove the pollutants on the equipment surface at high speed without damaging the equipment surface since it's contact-free cleaning. It is a good choice for a laser cleaning equipment for its high efficiency, flexibility and automation.
The scanning beam moves at staggered triangular waves and the galvanometer motor is modulated at the frequency of 1-20kHz. The laser beam can cover the whole range of 5 * 100mm without any dead angle through the scanning mirror by scanning from one end to another end.
The focused spot diameter through the f-theta lens is smaller than 0.02mm. Line-scanning technology is used by traditional laser cleaning. It needs 5 / 0.02 = 250 scanning lines to cover the field of 5 * 100mm. Comparing with traditional technology, our patented laser cleaning head is only need one scanning action to achieve the effect of 250 times scanning actions. Benefiting to our technology, the cleaning efficiency is greatly improved. No residue, high efficiency and good appearance of the equipment surface after cleaning.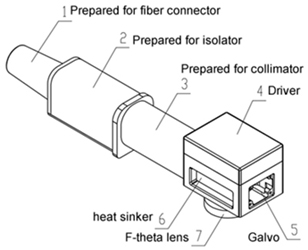 The laser cleaning head consists of a 2D laser scanning system, f-theta lens, control card and software. Our laser cleaning head is a compact and user friendly product. It is especially suitable for fiber laser cleaning machines. the laser cleaning head can stand alone or hand-hold for cleaning.
Main Specifications:
Part number: CHST-1064-8
Input Aperture:8mm
Frequency:≤ 1200Hz
Resolution:12μRad.
Repeatability:8μRad.
Setting time:≤0.3ms
Maximum Scan Angle:X axis ±15° and Y axis ±5°
Average Current:2.0A
Peak Current:5A
Operating Temperature:0℃-45℃
Storage Temperature:-10-+60℃
Outline Size:380x70x100(mm)
Weight:1.0±0.1(kg)
mount thread of the f-theta lens:M55x1
Cable length:3m
Connector to fiber laser:via isolator & collimator (as shown in the above picture)
Control Card
Control Card is the control centre that is not only used to control the parameters of the laser, but also to control the scanning system, and to move and clean according to the required parameters。
Software:
The software can set many parameters such as laser power, pulse repetition rate, pulse duty cycle, the scan length along X and Y directions and scanning frequency of each direction (both X and Y).
The cleaning head package includes a scanning system, control card, touch screen and software.