For OEM users or laser integrators or the end users for the production line, we can provide OEM laser markers at more attractive prices. The OEM laser marker consists of 3 parts: a laser head with marking head, a control box, a D/A card & marking software. A chiller may be needed depending on the CO2 lasers used.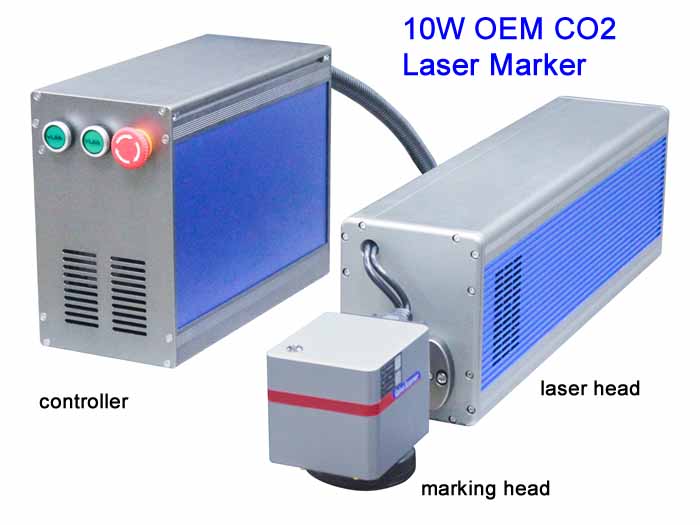 Specifications:
| | |
| --- | --- |
| Laser wavelength | 10.6um |
| Laser power | 10W/30W/50W |
| Mark linewidth | 0.15mm |
| Marking field (mm) | 50x50 - 250x250 |
| Marking speed | <5m/sec |
| Weight (laser with mark head) | 20kg |
| Electric | 200VAC, 50/60Hz |
Remarks: 1) various brands of CO2 lasers available according to customers' applications and request.
2) other laser power levels and marking fields available upon request..
3) custom-design and –making available.
Typical Applications:
Laser marking of non-metal materials and products: acrylic, ceramics, plastics, polycarbonate, organics, wood, thermo-elastomer rubbers, paper, button.
Electronic industry: capacitor, inductor, PCB, IC, connector, control panel, instrument.
Others: button, cosmetics, food package, bottle, gift, advertisement & sign crafts, craft & gift making.
Other CO2 lasers & customised laser marking systems available upon request.